When's the next 14/48?!?
It's a question we hear a lot, especially from 14/48 Veterans itching to get another taste of the festival. So here's a handy list of dates to pop in your diary.
 6th to 20th February 2021

Young writers write the plays and we stage them… genius happens.

May 2021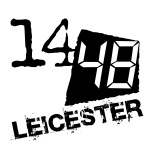 14/48 Leicester…
There's a pandemic and all, but we'll find a way of making this happen… check back for more info once we know what is possible… online, filmed in venues, who knows, but we'll do something worth seeing.



Missing 14/48?
Checkout 14/48 From a Distance and 14/48 WFH, all made in lockdown, and all free to access. If you like them, and feel you can afford it, please do consider dropping us some £££s here